Newborn Sleep Tips For The First Time Mum
Posted on

Hey first time mum or mummy to be
Congratulations! This is an exciting time for you. After you give birth you'll probably feel every emotion under the sun, joy, excitement, maybe some anxiety and fear of the unknown.
I remember when I gave birth I was so excited to wake up and see her little face every morning and then I'd be overwhelmed with worries or fears and check on her constantly, then quickly feel relief knowing she was ok to quickly worrying again. It was crazy but amazing all at the same time.
I remember feeling exhausted and worrying about whether or not I should be feeding or pumping or changing nappies, and this is while she was asleep. I'd been working with babies for 5 years when I became a mum but I still felt reallllly inadequate at times in the first few days and weeks. Sleep deprivation can play tricks on you and even if your baby sleeps lots which they will the fragmented sleep can take some getting used to.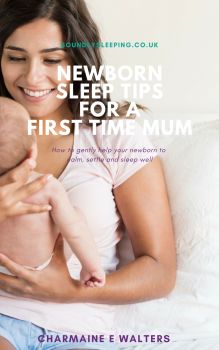 I want you to relax and enjoy these first few weeks with your baby as much as possible before you immerse yourself in the world of baby sleep or sleep training.
I know that if your anything like me you'll want to relax and enjoy the first few weeks but you'll also want to be doing things that will make teaching your baby to sleep through the night eventually much easier for you and your baby and keep Year to the minimum.
I created this ebook of tips for you the first time mum.
Click here or the pic to the left to download yours now!